Archive for the 'Anything Else' Category
It's "dhimmediatude." Although it is very commendable to see 20 Muslims standing around an Oslo synagogue for what appears to be truly peaceful purposes, something remains woefully wrong within the Islamic community when a city that is home to over 52,000 Muslims can manage to draw just 20 of them in a show of solidarity with the local Jewish community. And what's woefully wrong is Islam itself …
Qur'an Sura 5:51, "O you who believe! do not take the Jews and the Christians for friends; they are friends of each other; and whoever amongst you takes them for a friend, then surely he is one of them …"
Qur'an Sura 5:82a, "You will surely find the most intense of the people in animosity toward the [Muslim] believers to be the Jews …"
Hadith, Tabari 7:97, "'Kill any Jew who falls under your power.'" – The "Prophet" Mohammed
Hadith, Sahih Muslim, 41:6985, "The Day of Judgement will not come about until Muslims fight the Jews, when the Jew will hide behind stones and trees. The stones and trees will say O Muslims, O Abdullah, there is a Jew behind me, come and kill him …"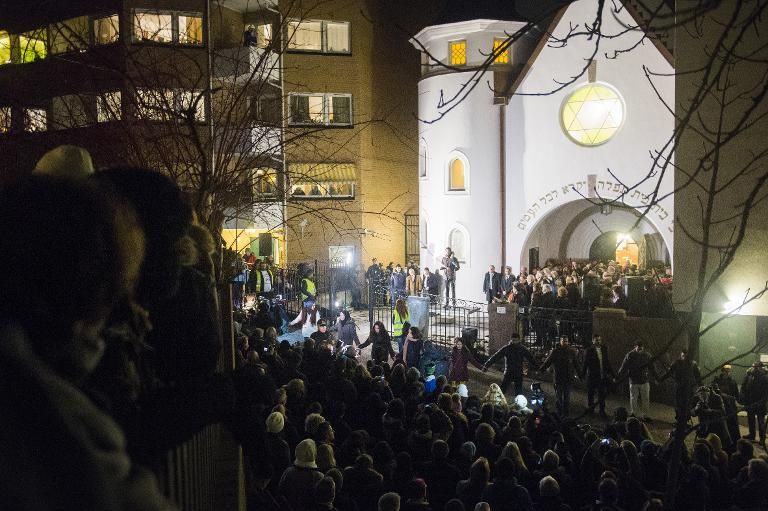 By Jordan Schachtel, Breitbart – "The weekend's feel-good story about a Muslim 'ring of peace' formed to 'protect' Jews at an Oslo synagogue turned out to be a complete fabrication by the mainstream media, according to an eyewitness report, local officials, and attendees' photos.
According to a local eyewitness, only about 20 or so Muslims formed the 'ring of peace' around the Oslo synagogue. In fact, pictures from multiple angles show that there wasn't enough people to form a ring, so the locals instead formed a horizontal line in front of the synagogue.
A local news outlet explained how the media got to its '1,300 Muslims' number. 'According to police, there were 1300 persons present in the event. Very many of them ethnic Norwegians,' read a translated report from Osloby.no.
Demonstrators also reportedly chanted, 'No to anti-Semitism, no to Islamophobia,' conflating criticism of Islam and hatred of Jews.
Photos pulled off of social media appear to corroborate the narrative that only twenty or so people formed the 'peace ring.'
Multiple news outlets, including wire services for hundreds of news sites, ran with the false narrative that 1,000 or more people–sometimes all of them Muslim–formed the ring of peace outside of the Oslo synagogue.
The AP incorrectly reported, 'More than 1,000 people have formed a 'ring of peace' outside Oslo's main synagogue at the initiative of a group of young Muslims.'
AFP reports almost identically, 'More than 1,000 people formed a 'ring of peace' Saturday outside Oslo's main synagogue at the initiative of a group of young Muslims.' The newswire agency has no excuse for the false report, as it had a photographer taking shots of the 'ring' at the scene–and one shows a man who appears to be at the end of the line of hand-holders, with his left hand in his pocket." Read more.
Flashback: Canada: Progressive Muslims Group In Toronto Rallies Against Jihad Terrorism, Only Draws 24 People – "One of the cornerstones of the argument over the last few days for keeping me out of the U.K. is the false claim that I 'demonize all Muslims' in my critique of jihad and Islamic supremacism. In reality, I point out that Islamic supremacists claim to represent the authentic interpretation of the Qur'an and Islam, that they make recruits among peaceful Muslims with this claim, that most reputedly 'moderate' organizations in the U.S. are tied to the Muslim Brotherhood (as has been abundantly established by the Justice Department), and that genuinely peaceful and non-supremacist Muslims have not effectively countered the Islamic supremacist appeal among Muslims. All these facts are established anew by the tiny turnout at the small number of Muslim anti-terror demonstrations that have taken place." Read more.