Archive for 11/13/2015
France is devolving into Europe's version of the "Islamic State" it seems. Yet again we are forced to bear witness to the reality of Islam, where being on fire for Allah means opening fire on everyone else who isn't. As the "Religion of Peace" quickly becomes the dominant religion throughout France, expect much more Islamic terror to follow in its wake …
Update: Latest update from the Associated Press reports 129 killed, 352 wounded (99 in critical condition) from 7 coordinated attacks …
Hadith, Bukhari 2977, "I have been made victorious with terror" – The 'Prophet' Of Islam, Mohammed
Qur'an Sura 33:21, "Indeed in Allah's Messenger (Mohammad) you have an excellent example to follow for him who hopes in (meeting with) Allah and the Last Day …"
Zechariah 5:3a, 8a, "… This is the curse [אָלָה – "alah"] that goes out over the face of the whole earth … This is Wickedness …"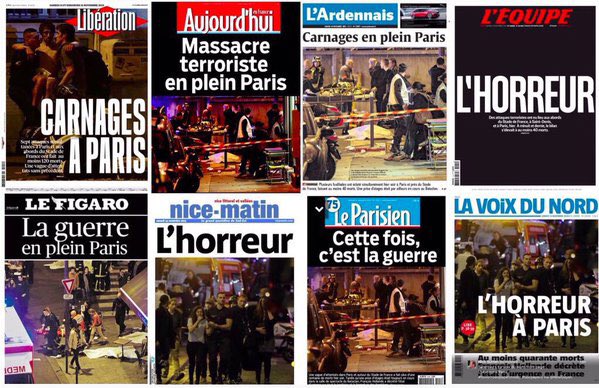 Fox News – "Eight ISIS terrorists wielding AK-47s and wearing suicide belts carried out coordinated attacks at six sites around Paris Friday night, killing at least 127 people and wounding at least 180 others, France's president said Saturday.
American citizens were among the injured and the U.S. government was working closely with French authorities to identify the victims, the State Department said Saturday morning. During the night, the State Department said it was seeking to establish the whereabouts of 70 U.S. citizens known to be in France, but had not received word that any Americans had been killed in the attacks Friday night.
'The U.S. Embassy in Paris is working round the clock to assist Americans affected by this tragedy,' deputy spokesperson Mark Toner said in a statement Saturday.
ISIS claimed responsibility for the attacks and a Syrian passport was found on the body of suicide bomber at the Paris stadium. French authorities are urging any witnesses to come forward. One of the bombers was a young Frenchman previously flagged for links to Islamic extremism, police said. The man was among the attackers who blew himself up after a rampage and hostage-taking in a Paris concert hall, officials said.
Authorities have closed the Eiffel Tower, the Louvre Museum and other top tourist sites in Paris until further notice. A Louvre spokeswoman said the museum opened as normal Saturday with enhanced security, but was ordered closed by the Culture Ministry after President Francois Hollande called for a national day of mourning. Isabelle Esnous, a spokeswoman for the Eiffel Tower, said the monument did not open as a security precaution. The Culture Ministry said 'public cultural sites' were closed in the Paris region Saturday, without specifying.
Speaking after an emergency security meeting to plan his government's response, Hollande declared three days of national mourning and raised France's security to its highest level. He described Friday's attacks, which produced the worst bloodshed in Paris since World War II, as an 'act of war.' Hollande said ISIS was 'a terrorist army … a jihadist army, against France, against the values that we defend everywhere in the world, against what we are: A free country that means something to the whole planet.'
Hollande also vowed that …" Read more.
Flashback: Imams In France Are Indoctrinating French Muslims With Culture Of Hate, Racism – "… French Jewish artist Ron Agam told the Algemeiner that, 'It is about time now for the French authorities to radically search for these Imams and put a stop to the brainwashing on tens of thousands of Muslim kids in France.' 'It is unacceptable that this culture of racism and antisemitism is being tolerated by a significant number of the Muslim community, this culture must stop,' he concluded." Read more.
Flashback: Expert: Large European Cities Overwhelmed by Muslim Population – "Muslim population in many big European cities already exceeds 20%, according to Alex Alexiev, an expert in international security and radical Islam and visiting fellow at the Hudson Institute, Washington, D.C. In his words, however, what is especially worrying is that these Muslims are getting radicalized. The expert reckons that almost all Western European countries are marked by a high degree of radicalization." Read more.
Flashback: Terrorism Without End: 'Islam … Is A War Machine Whose Ideas Lubricate The Recruitment' – "There are many today who recognize that the Islamist ideology espoused by Al Qaeda and its ilk has metastasized since 9/11 throughout the Muslim world.  Unfortunately, the call to reality has largely fallen on the deaf ears of Western leadership. Nations can fight against armies, against a foe that is well defined, but a religious ideology that recognizes no borders, no limits, no definition of peace apart from its own is an ideology that no nation will ever defeat, and an ideology that will continue to become more mainstream each and every day until its fiery end at the epiphany of Christ Jesus in power and great glory …" .
Ancient Aztecs slaughtered children for the clouds of "Tlaloc." Phoenicians slaughtered children for the coals of "Molech." Jihadists slaughter children for the cause of "Allah." No matter what name was given to the god they serve, they all served the same god …

John 8:44a, "You are of your father the devil, and the desires of your father you want to do. He was a murderer from the beginning, and does not stand in the truth, because there is no truth in him …"
Jude 1:11, 13, "Woe to them! They have taken the way of Cain … They are wild waves of the sea, foaming up their shame; wandering stars, for whom blackest darkness has been reserved forever."
By Levi Winchester, Daily Express – "A SICKENING video has emerged appearing to show depraved Islamic State (ISIS) militants gunning down hundreds of Syrian children in a horrific new low for the twisted terror group.
The distressing footage shows around 200 bound children being forced to lie face down in a line as they await the mass execution.
The corrupt killers are then seen opening fire on the children with automatic rifles, ending the terrifying video.
While the authenticity of the footage has yet to be verified, ISIS have been known in the past to film their barbaric executions before posting them online as a sick warning to the West.
The evil militants have also boasted about killing children as part of their evil terror regime and self-declared Caliphate.
The video – which Express.co.uk has decided not to show – first began circulating online earlier today by a Yemen-based anti-ISIS activist, and has since sparked fury across the world.
One commenter wrote: 'God burn Daash [a derogatory Arabic term for ISIS] and their supporters.'
Another added: 'Lack of ethics and humanity, under the guise of religion.'" Read more.
Flashback: Child Sacrifice For The Glory Of "Allah"