India: Muslims Go On Violent Rampage During Protest Of Anti-Mohammed Film In Ahmedabad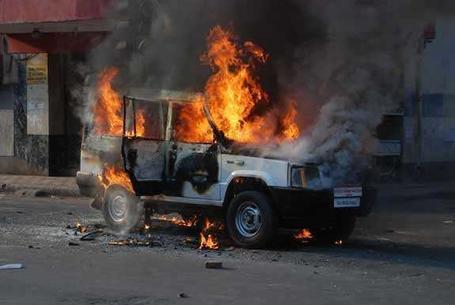 The Times of India – "AHMEDABAD: A rally to condemn the anti-Islam film 'Innocence of Muslims', which has irked Muslims across the globe, took a violent turn in the city on Wednesday. An angry mob set fire to the Karanj police chowky along with 11 motorbikes and two jeeps belonging to the policemen.
City police fired three rounds in the air to disperse the mob. Officials also lobbed more than 30 tear gas shells and lathi-charged the protesters to bring the situation under control. At least 12 people were injured in police lathi-charge.
More than 100 people were arrested for the violence by late evening. This included a woman, Zarina Khan, who had initially sought permission for a rally from the cops, which was turned down. The accused have been booked for attempt to murder and vandalism.
The violence sparked off after a string of bandh calls given by various groups in different parts of the city during the past week. Several minority-dominated parts of Ahmedabad had witnessed spontaneous bandhs and small rallies against the film.
On Wednesday, a large section of the minority community had decided to stage a rally on a much larger scale. However, the city police denied them permission. Upset with the decision, the protesters called for a city-wide bandh…
These twin aspects did not go down well with the bandh and rally supporters who started collecting at the Lal Darwaja in huge numbers at 2 pm.
The city police seemed to have underestimated the threat-perception of this massive gathering. This was evident in the fact that quite a small number of Karanj policemen were posted near Lal Darwaja and they proved to be grossly inadequate to stop the protesters from marching ahead.
At around 3 pm, a huge rally marched to Jama Masjid beyond Teen Darwaja. Outside the ancient mosque people started shouting slogans against the people who had asked the protesters to stay calm. This sparked off more violence…
Ahmedabad: The angry mob refused to budge from in front of the Jama Masjid despite repeated warnings by police. Then city police lathi-charged the protesters. This triggered more violence as the mob retaliated with pelting stones at the cops.
The mob then directed its fury at the Karanj police chowky, close to the women's station. As the mob started vandalizing the chowky, women officers and other cops fled in fear. The mob then set fire to the furniture and vehicles parked outside…
When the police were busy in crowd control near Teen Darwaja, another group of violent protestors attacked a government vehicle near Relief Cinema and set it ablaze." Read more.