Archive for 08/18/2011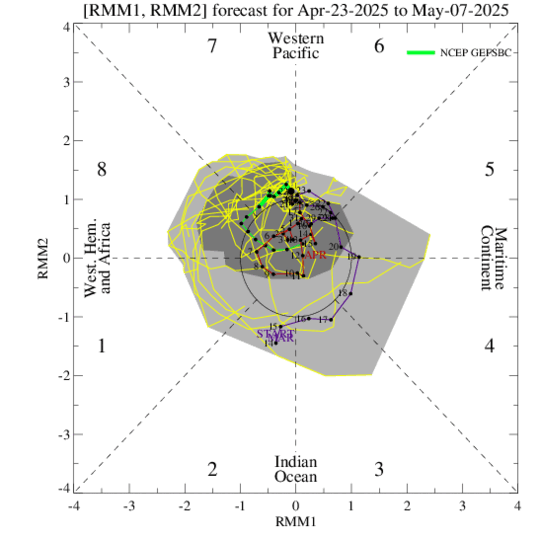 By Weather Specialist Josh Ketchen – "On many outlet sources and social media outlets on the internet some general agreement is surfacing that the Atlantic Tropical Season is about to unleash its rage. Although seven storms have formed already this season, they all have been relatively short-lived and rather weak in intensity. This; however, is about to change. As discussed in a few posts on MyWeatherTech.com, twitter, and facebook over the last two to three weeks I have been strongly suggesting this scenario. My hot spot has been the East Coast of the United States so over the next month it could be a very active and interesting time for those particular areas.
Above is an image of the Madden-Julian Oscillation Wheeler Plot forecast over the next two weeks. I know it is not that easy to read but the green and yellow line mixed with a gray spread that it depicts is right in the heart of Grid 1 and 2. This is a forecasting tool I look to forecast tropical development. When the oscillation index is in Grid 1 and 2 it signals two things to me. First, it signals a trough in the eastern United States. As you have noticed over the last week the high heat and the oppressive humidity has waned significantly. If you look at the Wheeler Plot it has been in Grids 1 and 2 for the majority of the time. Secondly, the likely enhancement of upward motion in the Tropical Atlantic also occurs in these grid areas. With the fact that we are approaching the peak of the hurricane season as we head toward late August and into September and the MJO oscillation moving right into the prime areas for development, suggestions can be made that the hurricane season is about to turn quite active." Read more.