Japan: More Than 10,000 Earthworms Found Dead In Parking Lot In Komatsu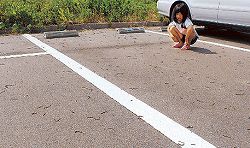 Fukushima Diary – "In Komatsu city Ishikawa, more than 10,000 earthworms found dead in a parking lot. Ishikawa prefecture is facing Japan / Korea sea.
Mr. Kobayashi is living near the parking lot. He comments he found earthworms dead in the evening of 8/5/2012. It kept increasing and now it's scattered around in the 250 m2 of the area.
There are about 500 dead worms in the space for one car. Because 16 cars can park there, more than 10,000 worms are dead in the whole area including the passageway.
Former director of insects museum visited the place to comment it is rare to see this many worms dead at once. It's an ordinary type of earthworm. He assumes they came from the near greenery to the parking lot for water because of the intense heat and died there.
Citizens nearby the area talks, 'I haven't seen such a thing. Is this because of the intense heat ?' or 'It may increase more.'" Source – Fukushima Diary.