Report: Thousands Of Iranian Agents Poised To Invade America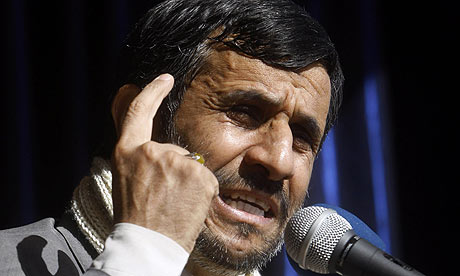 By Reza Kahlili – "Iran has expanded its terror network and now has tens of thousands of agents in Latin America, according to a former Iranian official who has witnessed the regime's crimes against humanity inside Iran and has knowledge of its terror network targeting the West.
In interviews with the opposition outside Iran, the official revealed that more than 40,000 of the regime's security, intelligence and propaganda forces successfully have been placed over time in Bolivia, Brazil, Guatemala, Nicaragua, Ecuador and Venezuela.
These forces consist mostly of former interrogators, torturers and security forces along with the members of the Quds Forces.
Many of them, according to the source, are other nationalities, such as Afghans, Lebanese, Iraqis and Somalis.
Hassan Rahim Pour Azghodi, a member of The Supreme Council of Cultural Revolution in Iran and a noted ideologist and theorist of the Islamic regime who visited Ecuador, Venezuela and several other Latin American countries last year, is a former interrogator and a torturer who is now a close adviser of Ghassem Soliemani, the chief commander of the Quds Forces, the source said.
Azghodi, in a lecture last September aired on Iranian state-owned television, stated, 'We must get ready for global operation. … Our fellow fighters are present in all five continents of the world. … An international jihad must be provoked; we must fear no one.'
According to the source, many of these forces have flown directly from Tehran to Caracas, Venezuela, whose president, Hugo Chavez, is an ally of Tehran. Many also have been placed in Bolivia. Their duties are to expand the regime's ideology, gather intelligence and be ready for operations against the West.
'We have Imam Ali Mosques in Bolivia, in Venezuela Imam Ali centers, as well as in Brazil and other countries of the region,' the source said. 'Many of the forces are a front involved in projects to help the host country such as building homes, roads and others. These forces always get together and share information in the mosques.'
As reported in May through a source who served in Iranian intelligence and had recently defected to a country in Europe, the Revolutionary Guards' intelligence division runs operations out of mosques.
Those operations include recruitment, reconnaissance and transfer of arms and cash.
This source also verified then that all Imam Ali Mosques are controlled by regime intelligence operatives and that the cells are well placed in Europe and America for terrorist acts.
'The Quds Force has established a command and control center in both Bolivia and Venezuela. Though it has presence in Europe and other parts of the world, it has focused on Latin America,' the former official said. 'They have forces in Guatemala but mostly for training on torture methods – though not modern but very effective – as Guatemala is one of the best in the world and training for torture is one of its resources for income."
Many of the forces are also trained in Iran for suicide bombings. They are brainwashed and go through a ritual in which they are naked but for their shorts and are washed on a stone where verses of the Quran are read to them. Then they are taken to the supreme leader for final approval.
According to the source, members also include Palestinians and Iraqis, and many were behind suicide bombings against American forces in Iraq. Should war break out, these forces are to conduct terrorist acts in Europe and America.
The source warned that the regime is active in recruiting and training for terrorist activities and assassinations of the opposition in Canada and America. Recently, Hamid Mohammadi, the Iranian cultural affairs counselor at the Islamic regime's embassy in Ottawa, in an interview with an Iran-based website, urged those loyal to the regime to be ready to advance the Islamic regime's interests.
The source, also revealing atrocities inside Iran, said that as a reward, the Islamic regime's judicial officials offered virgin girls to the torturers to rape, calling it permissible in the Quran. Virgins will end up in heaven even if they have sinned, according to the Quran, so they wanted to deny them this entry.
Thousands of girls, some as young as 13, were rounded up and taken to prisons, at times in secret locations, and raped before execution. The interrogators and torturers were even rewarded for cruelty and the number of executions conducted, the source said.
The former Guards' intelligence officer also verified that rape of girls and women in prisons across Iran is routine and mass executions and burials still occur for those who dare to challenge the regime. At times the families never know what happened to their loved ones." Source – WND.
Flashback: Top Syrian Cleric Warns West: We Have Suicide Bombers Who Are 'Already In Your Countries' – "Syria's top Sunni Muslim cleric has warned Western countries against military intervention, threatening to retaliate with suicide bombings in the United States and Europe if his country comes under attack. Grand Mufti Ahmad Badreddin Hassoun gave a speech and told the U.S. and Europe that 'we will prepare suicide bombers who are already in your countries if you bomb Syria or Lebanon.'… Hassoun's comments follow another warning by Syrian Foreign Minister Walid al-Moallem, who threatened 'tough measures' against any country that recognizes the newly formed opposition Syrian National Council." Read more.
Flashback: A Significant Number Of Hezbollah Sympathizers And Terror Cells Are At Work In The US - "A preliminary report issued by the U. S. House Committee on Homeland Security estimates that there could be 'hundreds, maybe even thousands' of Hezbollah agents operating in the United States and specifically in New York City. The report issued following last month's hearings says that the exact number of operatives is hard to determine. 'Pinning down a reliable estimate of the number of Hezbollah operatives who now reside inside the U.S. is difficult because of their operational security expertise,' the report states." Read more.
Flashback: Iran-Sponsored Terrorists Plan US Attack 'Worse Than The World Trade Center' From Latin American Countries - "Middle Eastern terrorists have infiltrated Latin American countries—especially Mexico—to plan an attack against the United States, according to an alarming exposé broadcast this week by the world's largest Spanish news network. The Univision documentary, 'La Amenaza Irani,' (Iranian Threat), uses undercover, never-before-seen video footage to illustrate how Iran's growing political, economic and military ties to Latin America threaten U.S. security. The videos were part of a seven-month investigation in which college-aged Mexicans infiltrated diplomatic circles in Mexico to obtain recordings that prove diplomats from Iran, Venezuela and Cuba planned a cybernetic attack against the White House, FBI, Pentagon and U.S. nuclear plants." Read more.