Guggenheim CIO: Europe on Brink of 'Major Financial Collapse'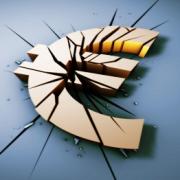 By Gennine Kelly – "Europe is a 'train wreck' and on the 'brink of a major financial crisis,' Scott Minerd, CIO of the fixed-income firm Guggenheim Partners, told CNBC Tuesday.
'The way Europe is operating right now, it's what I called recently 'cognitive dissonance," Minerd said, or 'basically doing the same thing thinking they're going to get a different outcome.'
'They keep throwing more and more liquidity at it thinking it's going to get better and it's not,' he added. Europe fails to recognize that it has a 'structural problem, not a liquidity problem.'
People will 'flee the euro' unless they find a way to bifurcate the euro in some way where strong countries are in the euro only and the weak countries are out, Minerd explained, adding, 'To be honest with you, I don't see the mechanism to do that.'
'As the capital is flooding out of Europe, which we're starting to see now, the first place it's going to go is to the safe havens—[U.S.] Treasurys, which [the market] perceives to be safe, and it'll chase gold,' he added." Read more.
Greece in panic as it faces change of Homeric proportions – "In one of the biggest banks in the centre of Athens a clerk is explaining how his savers have been thronging to pull out their cash. Wary of giving his name, he glances around the marble-floored, wood-panelled foyer before pulling out a slim A4-sized folder. It is about the size of a small safety-deposit box – and those, ever since the financial crisis hit Greece 18 months ago, have become the most sought-after financial products in the country. Worried about whether the banks will stay in business, Greeks have been taking their life savings out of accounts and sticking them in metal slits in basement vaults." Read more.
Eurozone panic as Spain and Italy edge closer to economic collapse – "The eurozone faced fresh financial fears today as Spain and Italy edged closer to the spiralling abyss of debt engulfing the region. The two countries have both been crippled by painfully slow economic growth but so far managed to avoid the kind of handouts given to Ireland and Greece. But the stock indexes in the two countries plummeted today while the yields on their bonds soared to record highs, sparking a risk of them defaulting." Read more.